How Many Amps Does Your Home Charging Station Really Need?
There's a lot of factors to consider when shopping for a home charging station for your electric vehicle. one of the important considerations is how powerful of a charging station do you need? Most electric and plug-in hybrid vehicles available today can only accept a maximum of 16 to 32-amps, while charging on a level 2, 240-volt charging station. However, there are charging stations available today that can deliver more power, even though very few electric vehicles can actually accept it.
More than 80 percent of EV owners recharge their vehicles at home, usually overnight, in the garage or carport, where charging units are usually wall-mounted and usually more utilitarian than attractive. That is also changing, along with their capabilities. The demand for 32A 7KW Portable EV charger has risen sharply
E-Car, the expert in safe charging keeps on research and develop new portable chargers to meet the EV drivers requirement . Now their latest generation 4- 32A 7KW Portable EV charger has been pushed to market in this year.
The EV Charge Solutions portable electric vehicle charger is a Level 2 station that delivers 32 amp (7.68kW) through 16 amps (3.84kW) ADJUSTABLE to your vehicle. This is a compact portable station that is an ideal solution for low-cost charging in your garage or to keep in the trunk of your EV for charging at work or on trips. 
Also you can choose "Timer Function" to save more. More convenient to set an economical time range for your EV charging. Use the Delayed Start Timer to schedule your charging session. This allows you to benefit from off peak rates and saves your money. Swipe the card when the plug is connected to the car to schedule the charging session as below shows: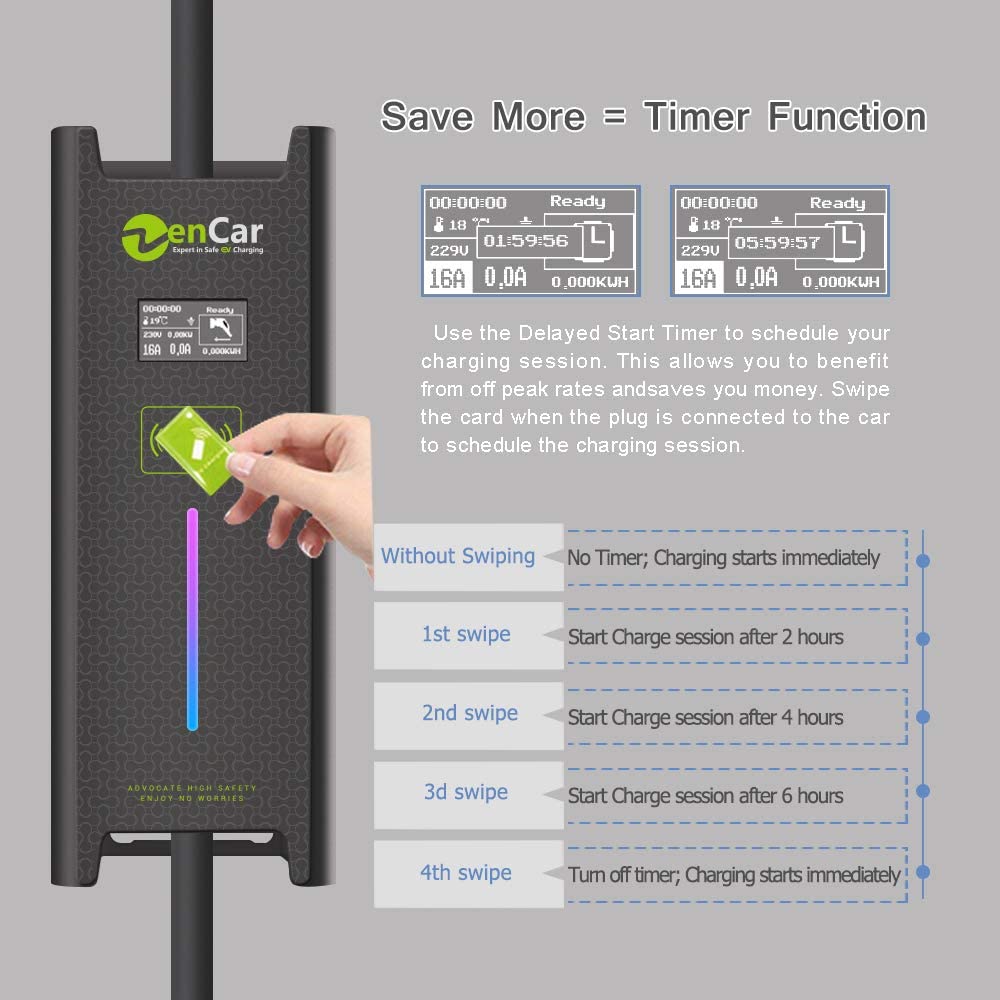 Why Adjustable?
Set to 16 amps @ 240 volts, 24 amps @ 240 volts, or 32 amp @ 240 volt. The more time you have to charge your car, it's best set to the lowest setting.
Application example: if I have the entire night and can leave the car on charge for 6 hours, set to 16 amps. If traveling and using the optional Reverse14-50R box below, set to 16 amps. If stopping at home for lunch and only have an hour before I leave again, set to 32 amps. If I only have about 4 hours to charge my car, set to 24 amps.